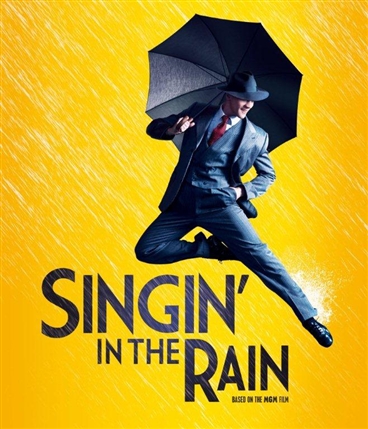 I often wish I loved old movies, but unfortunately I find most of them so trite that I have trouble paying attention. However, there are two classic films I can watch again and again: Some Like it Hot, and Singin' in the Rain. Both have genuinely appealing storylines, are hysterically funny, and feature a trio of talented, deservedly famous actors.
The Palace Theatre is now host to a brand new production with not only a perfect cast but onstage rain too!
With The Artist coming out on top at the recent Academy Awards, 2012 is the year the silent film came back. So it's a fitting time to revive this beloved classic based in the period of transition from silent films to 'talkies'.
Singin' in the Rain was first seen onstage in the 80s, but the volume of the falling rain and the ensuing mic trouble resulted in a disappointing reception. Thanks to the wonders of modern technology, the new West End production has overcome these obstacles.
The set is mainly a sound stage at 'Monumental Pictures'. Everything is black and white, and the edges of set piece facades are visible, which reminds us that everything is paper thin in the movie business.
There is not a bad note in the entire cast. Considering that every one of them must be a triple threat, this is astounding. Daniel Crossley's Cosmo wins early fans as he shows his cheeky side in 'Fit as a Fiddle', but it's Scarlett Strallen as Kathy Selden who really owns the show.
Few people know that Debbie Reynolds' singing voice for all the more difficult numbers in the original movie was actually subbed in by an uncredited Betty Noyes. Yet Reynolds, who was not a trained dancer, still famously said that "Singin' in the Rain and childbirth were the two hardest things I ever had to do in my life". So, the fact that Scarlett Strallen can pull it off live every single night is astonishing.
While the title song is a clear highlight, every single number in this show is brilliantly written and interpreted for the stage - particularly Moses Supposes, Make 'em Laugh, and Good Morning. In fact, the only negative point I can make about the entire show is that Cosmo doesn't do 'the wall flip thing'. This really is a fantastic evening at the theatre that manages to do the treasured film proud.
If you're lucky enough to sit in the second row, like I did, you will leave the theatre saturated.
Saturated, but grinning. And humming that irresistible tune.