Everyone's favourite Glee Club coach was out in style in London tonight.
In a word, Matthew Morrison's concert tonight, the first of his big tour, was: pleasant. More Backstreet Boys than Broadway, the show had a feeling of too much polish. He couldn't relax on stage.
He sang some of his most well known Glee songs (
Golddigger
,
Somewhere Over the Rainbow
), crooned his way effortlessly through old standards like
Lady is a Tramp
, paid homage to Elton John, and brought down the house with a
Let it Be
/
Hey Jude
medley for his encore.
In one bizarre moment, he invited his best friend up on stage to propose to his girlfriend. Good thing the poor girl said yes!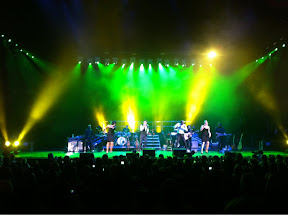 The highlights of the show were the few moments of daring: a
West Side Story
medley backed up only by the bongos, and letting his dance moves rip during a Michael Jackson tribute. (Yes, it's true he can do the splits).
He was also brave enough to pull out some original compositions. They were, overall, pretty good. But his managers have overproduced them like the rest of his concert.
Though my review may seem harsh, we did really enjoy the concert. He was great to watch, I just can't help but feel that his management failed him. (Who picked his wardrobe? Did it even cross their mind to make him a snappier dresser than Mr Schue? And somebody tell the AV guy to plug his laptop in so his low battery alert isn't broadcast to 2000 people).
I really hope that he relaxes into it. After a few weeks on the road, I have no doubt that the same show could take the roof off.