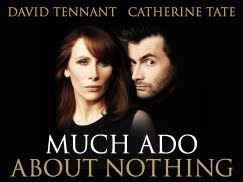 One Sentence Summary: Modern take on the classic Shakespearean comedy, set in Gibraltar in the 80s.
Trivia: Stars the brilliant David Tennant (aka Dr Who), and Catherine Tate (aka "am I bovvered?")
Best thing about it: Having never seen Dr Who, we went because we adore Catherine Tate. So, we were pleasantly surprised to find that the Doctor has some decent acting chops too. The pair have great chemistry, and if I'm being completely honest, he actually outperforms her.
We left thinking: Even 400 years later, Shakespeare really is still the king of storytelling. And also we chickened out of getting autographs.
Verdict: Solid, fresh and a fantastic way to experience the bard.