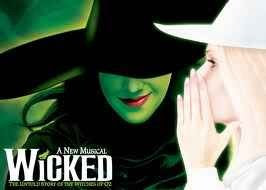 One Sentence Summary: Increasingly popular musical chronicling the witches of Oz before Dorothy turned up.
Trivia: This is the fifth time I've seen Wicked, but the first on the West End. I'm a little obsessed.
Best thing about it: There's nothing quite like dropping in to an old favourite on a rainy Friday night. The current West End cast is somewhat daring... not many 'typical' looking characters, and no C-grade celebs pretending they have what it takes to tread the boards. The result is an often fresh take at a time when many shows would be succumbing to staleness.
What they could change: While the abnormal casting had its good moments (Glinda got fresh laughs out of
Popular
, and you could hear Elphaba's rock influence) there were also some poor choices. A skinny, overacting Madame Morrible was the main culprit, though most of the other characters also raised eyebrows at one point or another.
We left thinking: The story works surprisingly well with an English accent. Pity the one guy who has to be American (the Wizard himself), had the worst one I've ever heard!
Verdict: Still a great show, but you're better off seeing it in Australia. Even creator Stephen Schwartz agrees their cast is better.